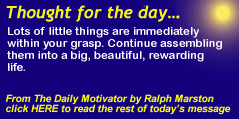 Please, take the time to look at this link Right Now
Thank you for stopping by.
Visitors find my site quite unique, due to the variety, and eclectic nature of it's content. And, it can actually be quite humorous, reading my mistakes, while trying to decipher my 'code.'
The title of my homepage is due to beginning my Internet journey visiting online chatrooms, where my screen name, was PakRat. Over the years, the discussions inspired me to learn more about issues, which led to an intense urge to express, not only my ideas, but to also share my life experiences. It was as if I was compelled to take this road.
The result being, the site literally took on a life of it's own.
Since, I choose to compose while online, instead of composing, and then publishing it's not perfect by any means.
The site has been evolving in structure, and fluidity, while being something I enjoy. Some pages are dated.
A few pages have been left 'as is' from 2003, purposefully. To show that I had posted the facts, and stated how the events would play out over time, a vindication of sorts.
There are some pages which will eventually, be updated, and I beg your patience. It's obvious, I haven't an editor, but I don't mind putting myself out there, while learning this new skill.
The menu to the left of this page offers a variety of topics. Essays, includes my commentaries on a variety of subjects. The Poems, and Stories authored by myself, and published are noted by an (*).
Life is a journey, and all of our paths diverge if only for a brief hit on my homepage.
We as fellow cyber pioneers who are traversing this vast Netosphere have at our fingertips, an enormous opportunity. Using the various communication forums, including, chat rooms, blogs, Internet threads, and message boards, we as individuals can make a difference. Simply by reading, and sharing information.
At any hour of the day or night, without leaving the comfort of your home, and with a click of your mouse you can monitor the status of a pending bill, and keep track of proposed legislation. Participate in polls, and sign petitions.
In the pioneer spirit of our ancestors, and our forefathers, WE the People, as the cyber generation, and as the cyber pioneers; have created a new language, and WE are creating the legacy OUR generation will leave behind.
WE are making history!
Each of us, on a daily basis, meet with opportunities to share, learn and grow while making a difference in someone's life. In essence, affecting many lives including our own.
Therefore, I look forward to sharing, and learning with you as we connect during our journey on this road called the Internet.
Success Is A Journey: Not A Destination
WE the People have the Power!

Mouse Power!
"I am only one, but I am one. I cannot do everything, but I can do something. And because I cannot do everything, I will not refuse to do the something that I can do. What I can do, I should do. And what I should do, by the grace of God, I will do." ~ Edward Everett Hale ~
WE the People have the Power!
Privacy statement:
This website does NOT use Spyware.
Disclaimer
The posting of information by another author does not indicate endorsement, nor support of their view, but rather that they have a right to be heard. The Bill of Rights
The links and information on this website are meant to be informational and educational. Health information is meant to be educational, not to endorse a treatment, diagnose, or prescribe.
The goal is to maintain up to date information -- not liable or responsible for content that is out of date, or information validity.
Should you see a copyright infringement, or misquote please, leave Feedback or contact me via email.
Notice:
Website contains copyright material and trademark phrases protected under Internet "First Use Rights."
Visitors may use my quotes, poems, stories, and essays. And, by doing so are expected to follow the rules of copyright law and common courtesy.
Please, note that none of the essays may be reproduced without the permission of the specific author. Not responsible for copyright infringement.
Logos and trademarks in this site are property of their respective owner. FAIR USE NOTICE: This site contains copyrighted material the use of which has not always been specifically authorized by the copyright owner. Making such material available in efforts to advance understanding of environmental, political, human rights, economic, democracy, scientific, and social justice issues, etc. We believe this constitutes a 'fair use' of any such copyrighted material as provided for in section 107 of the US Copyright Law. In accordance with Title 17 U.S.C. Section 107, the material on this site is distributed without profit to those who have expressed a prior interest in receiving the included information for research and educational purposes.
For more information go to: http://www.law.cornell.edu/uscode/17/107.shtml

Email Address: paksplace@aol.com